Did you know that every year, over 18,000 Americans die and many more are disabled as a result of injuries that took place in their home? From slips and falls, scalding from hot water, natural gas leakage, to poor judgement due to poor lighting- keeping yourself safe at home is especially important throughout your life, whether a child or senior. Thankfully, accidents around the home are also some of the most preventable.
The Most Common Household Injuries
The most common household injuries and safety hazards include:
Falls
Poisonings
Drowning
Scalding
Stress and Strain due to Poor Vision
Fall and Accident Prevention
Falls are the leading cause of accidental deaths in homes. Every year in the United States, 1 in 3 adults over 65 has a fall that leads to moderate or severe injuries and most of those falls take place in their homes. It's vital that you take fall and accident prevention seriously because you will not get a second chance to prevent a fall that brings death or disability.
Great Tips for Fall Prevention
Clear out as much clutter as possible
Remove throw rugs or secure area rugs with tape or other non-slip materials
Safety-proof stairs: add a gate and install graspable railings along both walls
Install grab bar systems around toilets, near sinks, and showers/bathtubs
Create a shower room for safe access with a curbless floor and a hand held shower head
Contrast surface colors so toilet seats, grab bars and light switch covers are easy to see
Use night lights along the floor to guide you at night or in a dark area to minimize glare and distortions
Wear socks or slippers with rubber grips, especially on wet or slippery floors
Accidents are also common in children, due to their inexperience, poor judgement and impulsiveness.
Tragedy can result when children find cleaning products or medications that are not properly secured and "play" with them through ingesting or skin contact, which can end in serious health consequences or death. While protecting your home might cost more, it will always cost less than the loss of a precious life.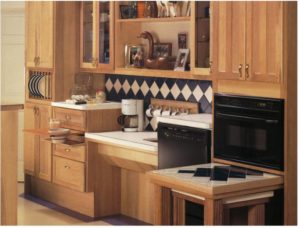 Accessible Design Features
When making your home a safer place to live, you should partner with an experienced accessibility safety consultant for ideas on modifying your home to create greater levels of safety. Abilities OT & Irlen disgnostic center staff provide a wide range of accessible design services, including reviewing design documents, planning compliance strategies and preparing conceptual, schematic and design development documents. Our wide range of clients includes private consumers and caregivers, real estate agents, private businesses and more. Some of the best accessible design features for residential homes include:
Additional lighting in walkways, stairways and hallways
Improving the surface condition or changing the surface material for driveways and outdoor walkways
Installing grab bars and handrails
Altering floor surfaces or increasing traction by adding or removing rugs and other flooring devices
Defining the edges of flooring or rugs as well as countertops, banisters, etc through contrast or barriers
Adding safety features like smoke detectors, carbon monoxide detectors and vents for kitchens and gas stoves
Adjusting the height of furniture or purchasing new furniture that provides adequate support
Avoiding sharp edges
Organizing your possessions and cleaning up clutter around your home
Adding adequate lighting around your home
Reading in the most optimal lighting
Contact Us Today
To learn more about our accessibility consultations and injury prevention services, call us today at (410) 358-7269. To get started at home, complete a pre-assessment for Sensory Processing Disorder, schedule a free phone consultation, and learn more about the Irlen screening process, Irlen diagnostic testing, Irlen re-tint testing, and who we help.